GLOBAL_FS Calendar Smartphone web app
Published Thursday, 08 July 2021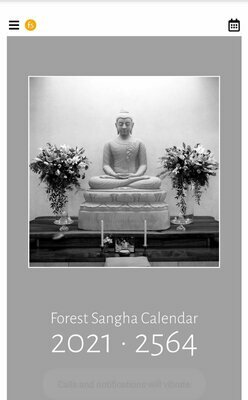 Our FS calendar is now available as a smartphone web app. This is thanks to the skill of Tan Adicco.
The app is virtually identical to the printed version. It opens on the current month and has a few options for previous and future years. Those looking for moon days ahead can find them up until 2030 in the menu under UPOSATHA DAYS.
If you have any questions or wish to contact us for any other related reason, please write to itmanager@ratanagiri.org.uk
With good wishes,
Ajahn Munindo